The post is part of the series "Life Stories" where we asked our customers to tell us their stories on why they wear a medical ID.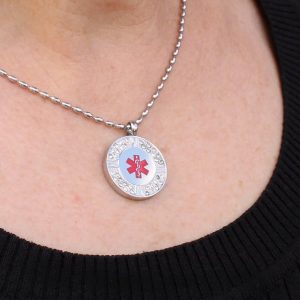 I'm a mother of three with a 15-year-old and twin girls that are 15 months. When I was 7 months pregnant I delivered early. One was born natural, I barely had time to get to the delivery room. She was 4lbs. The other was a c-section because she was head up and only 3lbs. After the birth, I had to visit them in the hospital in the NICU for a month.
Shortly after the birth, I was having a hard time breathing and my left side was getting numb. I went to the doctor thinking I would need an inhaler and I was sent straight to the hospital because I had an irregular heartbeat. Upon further testing, we found out I had heart failure.
My heart muscle was only working 5-10% at the time I went in, and after a week it went to 20%. As of now, it's still at 20% and I had to get an ICD surgery. Being healthy all my life, they linked the heart failure to having the babies, it's called postpartum cardiomyopathy.
So at the age of 31 with three kids and two of them just babies, I'm faced with the daily struggles of heart failure and was advised by doctors to get a medical ID. With further investigation about medical IDs, I've come to realize how important it is to have them. They give important information about you and your conditions.
As a young woman, I was worried that they would look like my grandfather's ID and that there wouldn't be a fun, feminine piece of jewelry. I was surprised to see the selection and found a necklace that had a pretty charm that has crystals and holds enough information for emergencies.   That is very important to me because my medical ID can mean the difference between life and death, and with children, that's all that matters to me. Every day that I'm here with them is a blessed day.
Thanks so much for giving me and my family the peace of mind needed during these times.