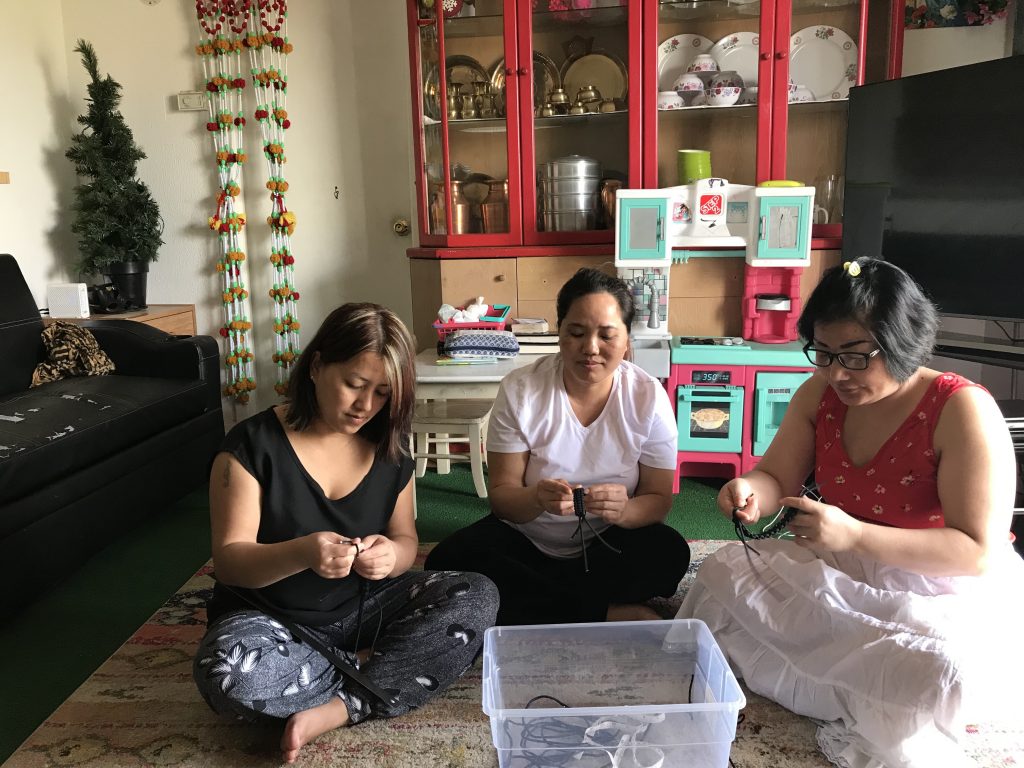 Paracords are popular for being a handy bracelet or strap to have in an emergency. It can be used in so many ways but the most popular use for it (because of its strength) is outdoor adventures. Just like a medical ID, a paracord can help save your life in the most challenging situations. Paracord bracelets continue to be popular, even more so during these days when people want to live independently and make personal safety a priority.
This brings us to the newest medical ID in our collection. It combines the benefits of wearing a medical ID and having a paracord bracelet at all times – The Stainless Steel Paracord Bracelet.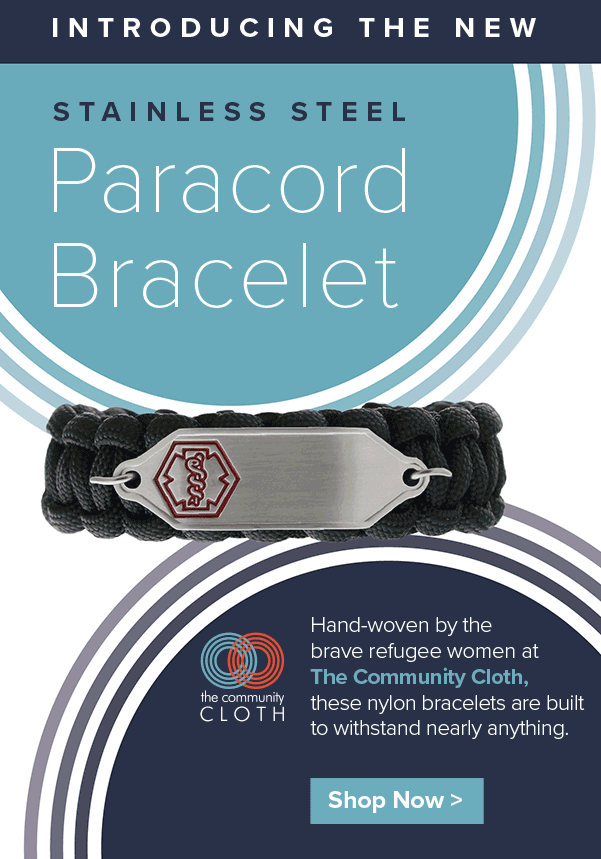 Each of these medical ID bracelets are made from 550 TYPE III paracord, known as one of the most used, water-resistant, dependable, tough, and long-lasting cord materials. The paracord band holds the stainless-steel medical ID that is slightly curved for a comfortable fit to suit different levels of activities.
The strength of this medical ID not only comes from its material or our 24+ years of experience in the industry, but also from the partnership we've made with The Community Cloth. The Community Cloth is a microenterprise initiative of The Alliance, a nonprofit organization that serves refugees, immigrants, and other underserved communities in Houston. They currently work with 37 refugee women artisans who come from Myanmar (Burma), Bhutan, Iraq, Nepal, Syria, Congo and Afghanistan.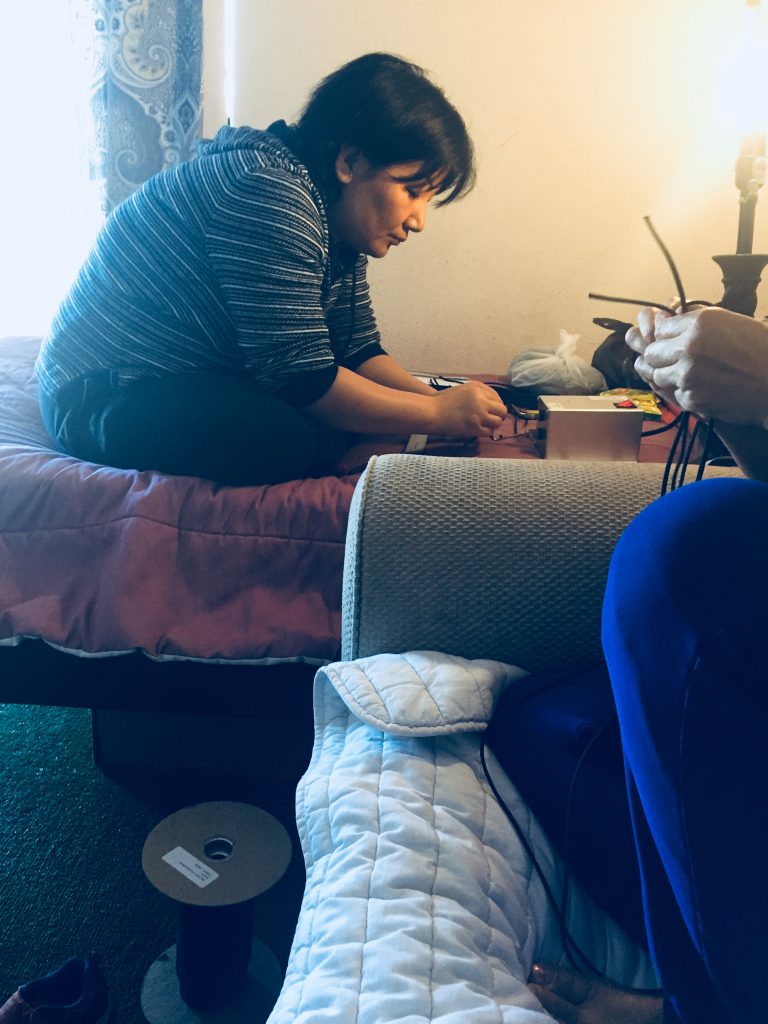 Through this partnership, the paracord medical ID weaves together our customers' sense of adventure and community, while keeping them safe in an emergency. The fact that each of these medical IDs help support refugee women artisans adds even more pride to wearing one. Every paracord medical ID bracelet, available in black, blue and green, is hand braided by a Community Cloth artisan in Houston, Texas. For many of them, weaving is an important step in rebuilding their lives, one knot at a time. This makes our partnership even more precious and close to our hearts.
For our customers, every purchase of a paracord bracelet helps support the women artisans in building a new home for themselves and their families.
Khatera, one of The Community Cloth artisans says, "working with The Community Cloth gives me a feeling of family and love. It's easy to work with them because they provide us with a warm environment. They help us with new projects so we can earn more money to help our families. Every month I have a paycheck and that is very important."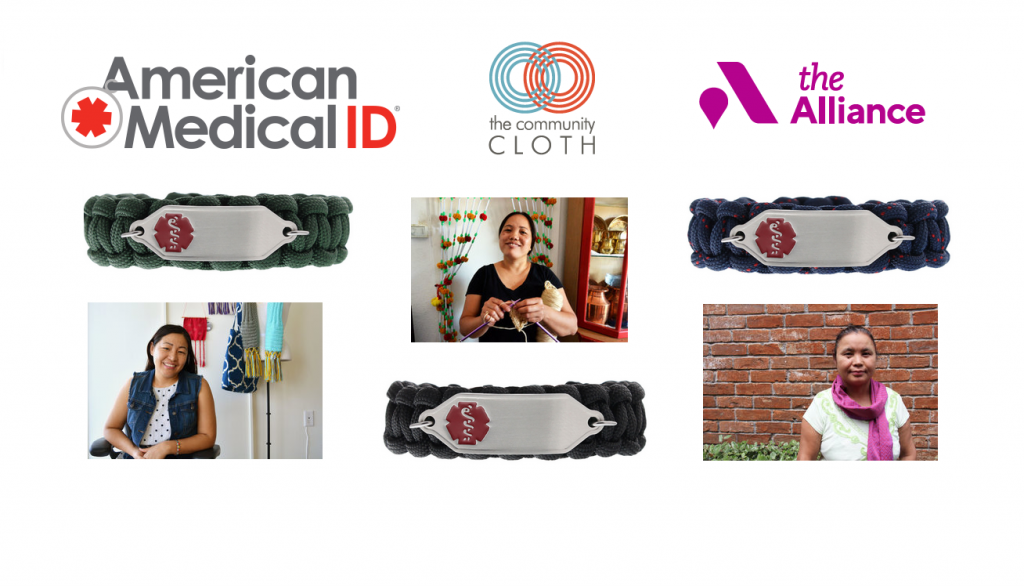 The Community Cloth is a microenterprise initiative of The Alliance that empowers refugee women in Houston, Texas. It targets economic, educational and social goals through the provision of training and peer support, and by expanding market opportunities for refugee women artisans.