The Drive to Stop Diabetes Campaign will Raise Funds and Awareness for the American Diabetes Association throughout 2013
The NASCAR Nationwide Series rolled into Richmond International Speedway on April 26th for the ToyotaCare 250. The race featured Ryan Reed, a talented driver who also has type 1 diabetes, driving the American Diabetes Association #16 Ford for Roush Fenway Racing. Reed's focus was on winning the race, but his heart extends much further.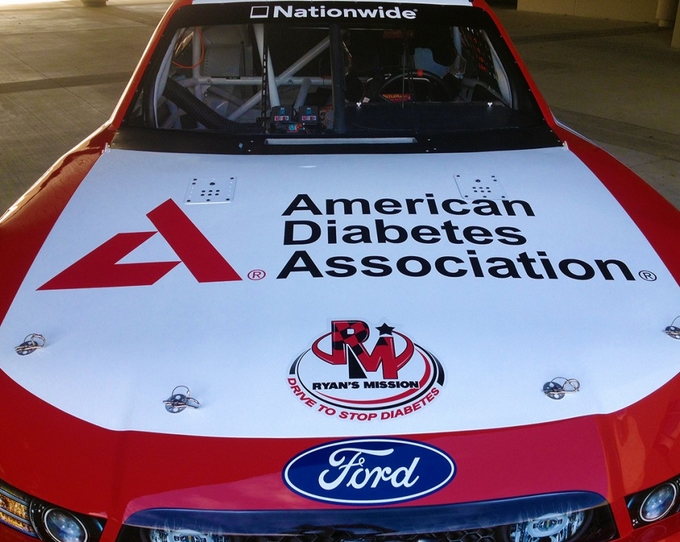 This racing season, Ryan Reed and his non-profit organization, Ryan's Mission, have embarked on a campaign to raise funds and awareness for a disease that affects millions of Americans. The Drive to Stop Diabetes campaign will include awareness and educational efforts at select NASCAR Nationwide races this year, as well as at several off track health and wellness initiatives throughout 2013.  The Drive to Stop Diabetes mobile movement will focus attention to educating the community on all types of diabetes. The campaign, through RyansMission.org 501(c)3, will donate 100 percent of all net-proceeds to the American Diabetes Association.
"The American Diabetes Association is thrilled to collaborate with Roush Fenway Racing and Ryan's Mission on the Drive to Stop Diabetes awareness campaign," said Larry Hausner, Chief Executive Officer, American Diabetes Association. "As one of the nearly 26 million people living in the U.S. with diabetes, Ryan Reed is an inspiring individual and his voice is critical to spreading awareness and educating communities across the country about this disease."
American Medical ID, the top maker of diabetes medical ID bracelets and necklaces in the U.S., has joined the effort by partnering with Ryan's Mission to provide campaign awareness bracelets and discounts for all donors through the campaign's Fundly webpage.
"American Medical ID is committed to serving the diabetes community and we are proud to be involved in this effort to raise awareness. Ryan can bring much needed attention to this growing problem. Recent estimates project that as many as 1 in 3 American adults will have diabetes in 2050 unless steps are taken," said Rick Russell, CEO of American Medical ID.
Since 1994, Houston-based, employee owned and operated, American Medical ID has created high quality, customized medical identification jewelry to meet one's everyday lifestyle.  Candidates for a medical ID include anyone living with chronic or rare medical conditions such as diabetes, asthma, heart conditions, stroke risk or memory impairment; persons with allergies such as food, drug or insect; and those taking multiple medications or blood thinners. For more information about American Medical ID, visit https://www.americanmedical-id.com/, email info@americanmedical-id.com or call 800.363.5985.