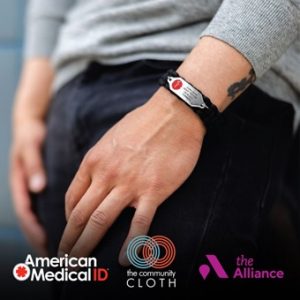 Back in 2019 American Medical ID announced a new collaboration with The Community Cloth (TCC) a Micro Enterprise of The Alliance (a nonprofit organization that serves refugees, immigrants, and underserved communities in Houston). This year we're looking back at how this partnership for the creation of our Paracord Bracelets has grown, and how American Medical ID has created a new avenue for our artisan women to work towards financial independence. 
Read the original blog post here.
Every month, Michelle Shattuck (Coordinator for Entrepreneurship Programs and TCC at The Alliance), brings a box full of paracord from American Medical ID to women in the Houston area who have been commissioned to weave these cords into bracelets. 
However, "It's not just a bracelet," says Michelle. "It's a way for these women to achieve financial independence by providing their family with supplemental income while using their craft/trade to create these beautiful woven bracelets." American Medical ID pays $5 for every bracelet that meets our standards. Then, the bracelets are returned for the attachment of our personalized stainless steel ID plates. "When our artisans first learned how to make the bracelets, they made 5-8 an hour – now it's closer to 15. It's become a very sustainable business model."
 "American Medical ID has shown what great potential there is in Houston when you find the right partner," says Wesley Givan, Program Manager for the Entrepreneurship Program at The Alliance. "We are modeling other partnerships for TCC based on this program due to its success."
This year (2022) American Medical ID is pledging 5% of the sales of our Paracord Bracelets on Giving Tuesday back to The Community Cloth & The Alliance. Join us in making a gift for The Community Cloth by clicking this link: Donate to The Community Cloth — The Community Cloth
Take advantage of our 20% off sale on top of our 5% pledge this November 29th 2022, for Giving Tuesday! Order Stainless Steel Paracord Bracelet | American Medical ID (americanmedical-id.com)
The Community Cloth is a Micro Enterprise of The Alliance. The Alliance is a 501(c)3 nonprofit, EIN: 76-0171217. American Medical ID (AMID) will donate 5% of sales of our Paracord Bracelets made on November 29th to The Alliance, to be used for the management and operation of The Community Cloth. AMID will receive a Donation Receipt for this gift. Individuals and organizations who purchased Paracord Bracelets will not receive a Donation Receipt and should not claim 5% of their purchase as a donation on their Tax Return.