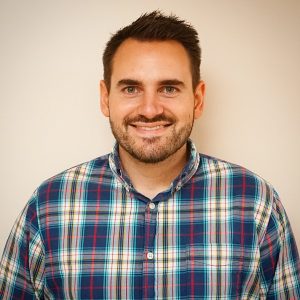 Meet our Search Marketing Manager, Anthony Trollope!
Job Title: Search Marketing Manager
How long have you worked at American Medical ID? 15 months
Where are you from? Somerset, England
What are your hobbies?  Jogging
Do you have any children? Pets? 2 chihuahuas, Chloe & Odie
What cause are you most passionate about? Displaced/homeless animals, my wife and I volunteer at animal shelter in Alvin
Favorite Holiday: Anywhere new! (<-You can tell he's from the UK )
Favorite Sports Team: Somerset County Cricket Club
Fun Fact: I met my wife in a McDonalds in Las Vegas, ended up leaving England to be with her
What is your favorite American Medical ID  product? Lynx Onyx
What is your favorite thing about working at American Medical ID? The lives we touch & the customer feedback we get about our products – they really do impact lives for the positive
Who would you like to exchange roles with at the company? Nobody, I'm good
What is your favorite American Medical ID Memory? Second day I joined the company we played kickball. The whole company turned out, it was a lot of fun and a great ice breaker!
If you could go anywhere in the world on vacation, where would you go? I've always wanted to go to the Caribbean for a super relaxing and indulgent beach trip!
What's the greatest bit of advice a parent or mentor has given you? Control the controllables; don't let them control you. In other words, focus on the things you can influence and pay no mind to those that you can't.
If you could have a dinner with someone who is alive or dead, who would it be and why? Aside from my wife, I've always been inspired by Richard Branson and what he has achieved in life. It would be an incredible opportunity to ask him some questions.