An engraved medical ID, worn on the wrist or around the neck, is the most reliable method for communicating important medical information in an emergency. Ideally the ID is customized with important medical details which will assist EMS or other health care providers in delivering prompt and effective medical care. If the wearer is unconscious or unable to speak clearly, their ID will do the talking for them. Per the Centers for Disease Control (CDC) "Help Others Help you…wear a medical ID bracelet or necklace".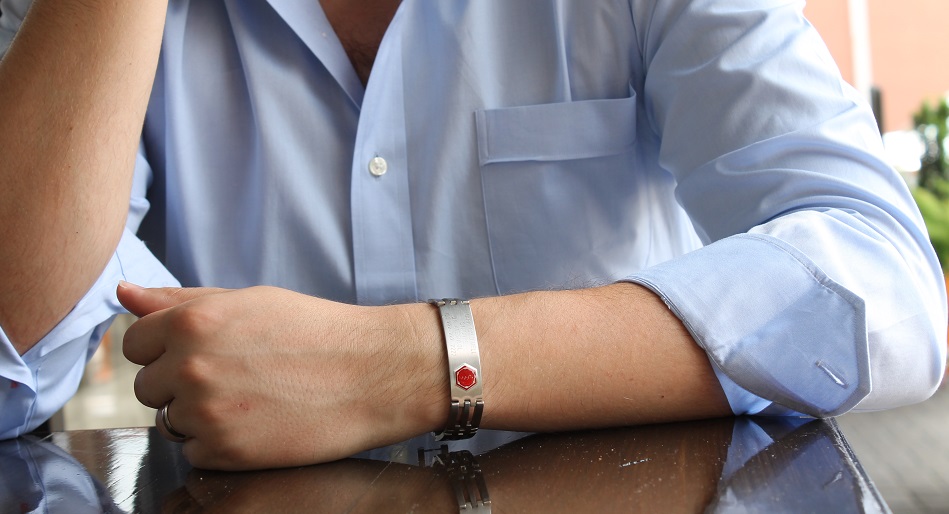 While medical IDs have been around since the early 1950s, there are many examples of IDs worn by soldiers in the civil war and going back even further. Today, medical IDs are worn by millions as a safety precaution in the event of an unexpected medical crisis. Medical ID jewelry is worn on highly visible places on the body where they are unlikely to be overlooked. Sometimes referred to as a Caduceus or a staff of Asclepius, either of these medical symbols will suffice to draw attention to the engraving on the ID as having significance for medical care. An ID worn on the wrist or on the neck, represents the gold standard in emergency communication.
Why Not Use an App?
Although smart phones have the capability of housing our medical information – Apple iPhones for example – information may not always easily accessible. Emergency medical providers observe that patients in accidents are commonly separated from their phones. Other drawbacks of over-reliance on mobile phones might be low battery, poor reception or access codes required such as user ID and passwords.
Wallet Cards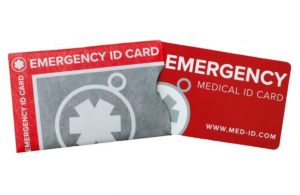 A medical ID wallet card is another option. They are often best used to complement a medical ID bracelet or necklace. In some jurisdictions, EMS personnel are forbidden from searching wallets. Just as with cell phones, the wallet may not always be readily at hand. This said, a wallet card is an excellent choice for including extensive lists of medicines, more detailed information or facts subject to change.
Medical IDs For Everyone
Not infrequently, perfectly healthy people choose to wear a medical ID simply to provide next of kin information should an emergency arise. They might also include blood type, physician contacts, etc. (Read our guide to engraving your ID)
If you are living with a chronic medical condition such as diabetes, heart conditions, food, drug or medication allergies, epilepsy, bleeding disorders, take blood thinners, memory impairment, transplant patients, pacemaker or other implants, etc. then you will likely be recommended to wear a medical ID by your physician.
A good place to start is having a conversation with your physician, nurse, physician assistant, nurse practitioner, diabetes educator or pharmacist. They'll be able to counsel you as to whether you or your loved one should consider wearing a personalized medical ID. And, they may be able to guide you on where to obtain a medical ID. Since an ID is personalized, it's not an item you can purchase off the shelf. Clinicians and pharmacies often have order forms or web addresses for where to shop for an ID.
An important consideration: you'll be wearing your ID each and every day. So make sure you get one you like wearing, looks good and not difficult to take on and off. There was a time when IDs were mostly generic steel bracelets. Now selections are much broader, with IDs made from surgical grade stainless steel, sterling silver, titanium, gold and other materials. Be sure and take into account durability. You'll wear your ID daily, wherever you go. So be certain the one you choose is well-made. Plenty of "trinkets" are now on the market, ones which may look good in a photograph on a web page, but may not hold up under daily use.
A final word of caution about ID design. An ID that is overly ornamental could be mistaken for fashion jewelry. Today there are more options than ever for finding an ID that looks good. However, going too far runs the risk of EMS not recognizing the ID for what it is.
If you've been advised to consider a medical ID, the most important thing to remember is to wear it. Consider it a bit like an insurance policy. Ideally you will not need it, but it's there if you do. It'll offer you peace of mind and the ability to continue living your life to the fullest.