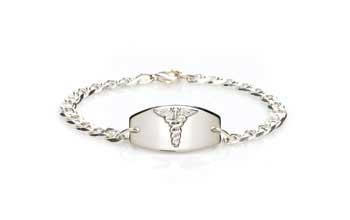 I am pleased to be able to relate my story, in the hope that it will encourage others to purchase a medical ID and thus experience the same comfort and confidence this has brought to my life.
My story begins three years or so ago when I experienced my first anaphylactic attack which was of an extremely serious nature. A further 11 attacks followed, each of a life-threatening nature.
 I live on Norfolk Island in the South Pacific where our wonderful hospital is close at hand, the hospital staff know me, and the appropriate treatment can be promptly administered.
It was decided I should visit Australia to seek further advice from an allergist who subsequently referred me to a leading Sydney immunologist re these on-going episodes. All of the many tests proved inconclusive.
Overseas' visits found me lacking in confidence to travel without my husband or family member, also the opportunity of personal freedom and movement whilst off the Island. This became especially evident after experiencing an attack whilst in Sydney resulting in an ambulance trip to hospital for a three day stay.
Your brochure recently came to my notice on our hospital's pharmacy counter. I mentioned this to my daughter (who now lives in New Zealand). She strongly encouraged me to purchase a medical ID post haste, and in March this year I ordered and received my bracelet engraved with appropriate information.
I am now very grateful to Universal Medical ID* and planning a trip with confidence, knowing the importance of helping those who may have to help me. My family will also have greater peace of mind.
 Your continued on-line health articles are of great interest, and I look forward to more of these as time goes on.
My sincere thanks and best regards,
Jan Pearson
A Universal Medical ID Customer
*Universal Medical ID is the international name brand of American Medical ID that caters to customers in Canada, the United Kingdom and Australia.