A pacemaker is a modern medical marvel. It regulates the beat of its owner's heart through a system of leads and a small electronic device that is easily implanted with surgery. Pacemakers are very safe medical devices when used properly, but as they are electronic, there are a few general precautions that should be taken as outlined below:
G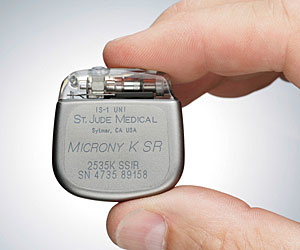 et Regular Checkups – To make sure your device is functioning properly, it is important to receive regular checkups from your medical provider. As pacemakers run on batteries, it needs to be checked at least once a year to make sure it's not running out of juice.
Also, certain medical devices and procedures can be dangerous for patients with pacemakers. It's essential that you tell a new doctor, dentist and any medical personal who provide you with services that you have a device installed.
Avoid Certain Electrical Devices – Understanding the types of electrical equipment that can interfere with the operation of your pacemaker is essential. Some cell phones, for instance, can interfere with pacemakers, but this is usually not the case unless the phone is held right up to device itself. If you decide to carry a cell phone, keep it in your pants pocket or purse and never place it close to your heart.
Identify Yourself – When dealing with a medical condition of any kind, it is important to make sure that those around you are aware of your situation. One of the easiest ways to do this is to wear medical alert bracelets, which are engraved with your specific condition. These bracelets are not bulky and can look very stylish as they come in a variety of colors and materials.
Doctors often recommend medical alert bracelets to patients with pacemakers. In the event of an accident or illness, paramedics are trained to look for medical alert identification to facilitate faster treatment. If your pacemaker malfunctions or you experience heart palpitations, this will come in handy, especially if you live alone.
Other types of electrical equipment can affect your pacemaker, including arc welding equipment and MRI machines. However, microwaves and standard household appliances will not affect the device's operation. You can talk to your doctor for more information about the types of equipment that might pose a problem.
With the right precautions, a pacemaker can improve your quality of life. Patients with pacemakers are often more active and energetic, but as the devices carry some risks, understanding how your pacemaker works and how to keep yourself safe is very important.
Stay safe and stylish while living with a pacemaker by wearing a personalized medical ID bracelet from American Medical ID. Click here to view the many styles and fashions available to fit your needs. If you prefer something a little more discreet, consider a medical ID key chain or charm.