As Veterans Day approaches on November 11, one million people who served our nation are receiving a free, simple tool proven to help them live a healthier life.
American Medical ID, a leading manufacturer of personalized medical alert jewelry, in partnership with the Mended Hearts, Inc., a cardiac support group, is donating one million blood pressure tracking cards to the Nurses Organization of Veterans Affairs (NOVA), just in time for Veterans Day.
The convenient wallet cards, designed by American Medical ID, will include the veteran's healthcare provider's name, blood pressure medicine being taken, a chart to record their blood pressure, special instructions, and valuable tips to help keep one's blood pressure under control.
The wallet tracking cards are being distributed this month to 42 NOVA locations around the United States. Additional cards will be distributed by the 250 chapters of Mended Hearts, Inc.
High blood pressure is a leading cause of heart disease and stroke. More than 50 million Americans have high blood pressure, and government estimates state that about one-third of those have uncontrolled blood pressure. The disease, sometimes called the "Silent Killer," often has no symptoms and can also cause damage to the heart, blood vessels, kidneys, and other organs.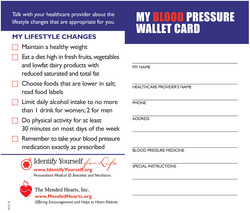 Normal blood pressure is considered to be 120/80 mmHg.
"Since high blood pressure has no apparent symptoms, it is not easy to convince patients to carefully monitor their readings. Even though these individuals may feel fine, high blood pressure left untreated over an extended period of time can be quite devastating," says Nancy Claflin, president, of NOVA. "These convenient cards will allow veterans to keep an eye on and track their blood pressure wherever they go."
In 2009, Circulation, the official journal of the American Heart Association, published a study that evaluates the effectiveness of a blood pressure wallet card in a VA patient population as a tool in keeping a lid on elevated blood pressure over time. WebMD, the popular online medical magazine, also reported the positive effects of wallet cards in 2009.
WebMD reported that using wallet cards to track blood pressure helped a group of veterans lower their blood pressure by 4.2 percent. The encouraging results clearly showed how this simple device can make a significant difference.
"High blood pressure increases a person's risk of developing any number of its complications such as heart failure and heart disease," said Raul Fernandes, president, of Mended Hearts, Inc.  "Empowering patients, particularly veterans, to monitor their pressure is one more step to ensuring they live healthier lives."
"Communicating important medical information is a part of our company's mission," said Rick Russell, CEO and president, of American Medical ID.  "This donation is a natural extension of our philosophy and philanthropic efforts.  It is with heartfelt commitment and great pride that we give back to those that have sacrificed so much for our nation."
This is not the only time American Medical ID has worked closely with the VA or its supporting organizations. The Houston-based company maintains a close, ongoing relationship with VA groups across the nation to assist them in carrying out a 2009 directive from the Department of Veterans Affairs, Veterans Health Administration, to make ID bracelets and pendants available to eligible veterans at no charge to the veterans.
Veterans wishing to find a NOVA location or a participating Mended Hearts local chapter near them to obtain a blood pressure card can call 602.277.5551 ext. 7333, 214.390.6233 or 713.695.0284.
About American Medical ID
Since 1994, Houston-based, employee owned and operated, American Medical ID has created high quality, customized medical identification jewelry to meet one's everyday lifestyle.  The medical IDs are available with various styles of bracelets, necklaces, and sports bands, in gold, gold-filled, sterling silver, stainless steel, titanium and nylon.  Each ID is custom fitted and personalized with complimentary engraving.  Candidates for a medical ID include anyone living with chronic or rare medical conditions such as diabetes, asthma, heart conditions, stroke risk or memory impairment; persons with allergies such as food, drug or insect; and those taking multiple medications or blood thinners. For more information about American Medical ID, visit www.IdentifyYourself.com, email info@americanmedicalid.com or call 713.695.0284.
About Mended Hearts

A community-based, nationwide heart patient support network founded in 1951. More than 17,000 members operate through 300 chapters and satellite organizations across the United States, with two chapters in Canada. Recognized for its role in facilitating a positive patient-care experience, Mended Hearts partners with 460 hospitals and rehabilitation clinics offering heart patient support through visiting programs, group meetings and educational forums. For more information visit www.mendedhearts.org, email info@mendedhearts.org, or call 1-888-HEART99 (1-888-432-7899).
About NOVA

Nurses Organization of Veteran Affairs is a nationwide, voluntary organization composed of registered nurses employed by the Department of Veterans Affairs. For more information, visit www.vanurse.org or call 703.444.5587.