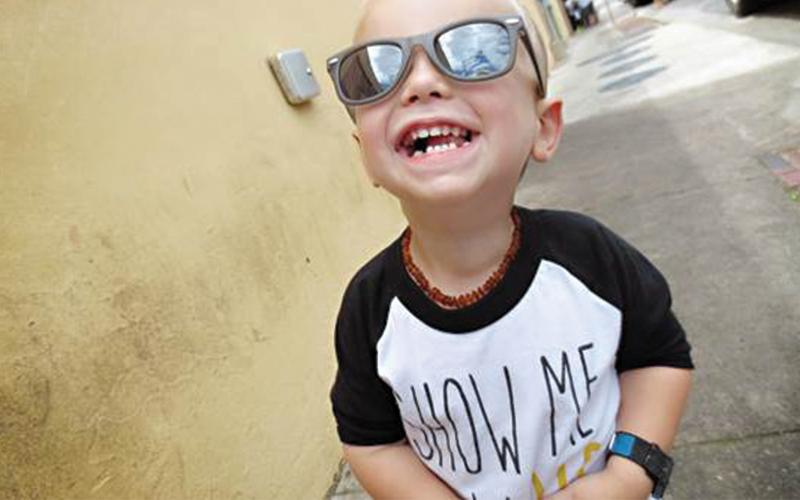 September may be the turning point between seasons. Summer fades into the cooler weather of spring as leaves change and the air lightens. But the month is also an opportunity for people around the country to rally support for raising awareness of hydrocephalus during National Hydrocephalus Awareness month.
Hydrocephalus is a condition in which fluid builds up in cavities in the brain, causing increased pressure on the brain. Too much pressure and cells in the brain can be damaged, leading to impairments and loss of brain function. Although it can be diagnosed at any time, it is common among infants.
That's exactly what happened to the Null family. At just three months old, Hawkins, now a lively 2 ½ year old, was diagnosed with hydrocephalus. Here's his story as told by his mom, Sarah.
At that time, he had a VP Shunt placed to help drain his extra fluid. There is no cure for hydrocephalus, and the only treatment is a life of brain surgeries. Not only has he learned in a short two and a half years that his condition does not define him, but he also has become an example in the hydrocephalus community and loves spreading awareness about his shunt and "special brain." Since his diagnosis, we have had many medical ID bracelets from American Medical ID. Now, as part of his morning routine he picks out which band… or two… or three he is going to wear that day! Behind every ID band is a special story, from the memories created that day, a few little scuffs from playing hard with friends to the people we have been blessed to share his story with when they inquired about his band.
Like Hawkins, it is important for children with hydrocephalus to wear medical ID bracelets that can inform people around them about their condition during an emergency.
For more information about hydrocephalus, or opportunities to help support the awareness cause, visit the National Hydrocephalus Association.