There are not enough ways to say thank you to the sacrifices our Veterans have made.
American Medical ID, in partnership with Mended Hearts, is taking a step to show a bit of our thanks by donating 1 million blood pressure tracking cards to Veterans. These life saving tools have been delivered to the Nurses Association of Veteran Affairs (NOVA) across the nation.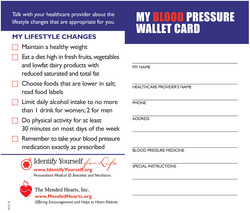 More than 50 million Americans suffer from high blood pressure (the leading cause of heart disease and stroke). With this card Veterans will easily be able to keep track on their blood pressure to help prevent serious illness.
The use of blood pressure wallet cards has been proven as an effective tool by both the American Heart Association, and a WebMD study showed that these cards were able to help a group of Veterans lower their blood pressure by 4.2%.
We hope this donation helps show our thanks on this special day.