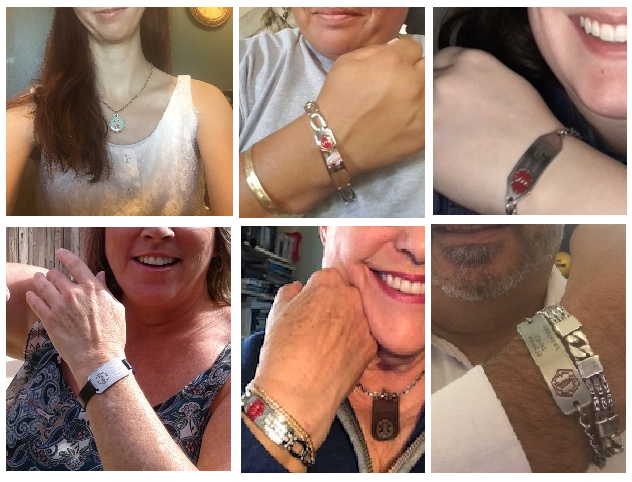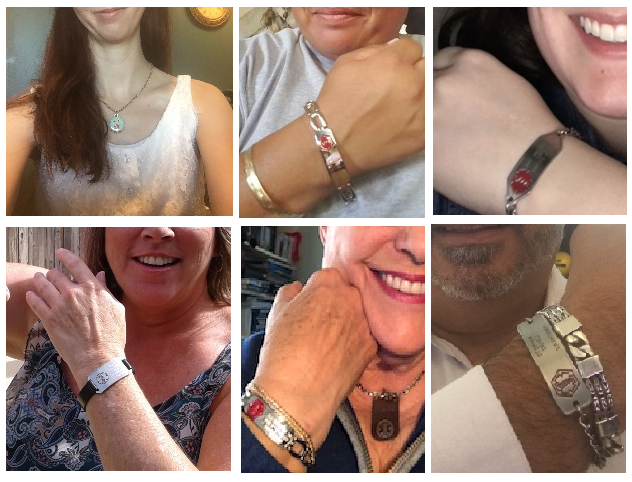 Every year, we ask our customers of how their medical IDs have made a positive impact on their lives. Their stories help us raise awareness of why medical IDs are important and give us an inspiring look at how our customers are living their life to the fullest, despite the challenges of living with medical conditions.
Let us share with you some of the best and bravest stories that we received.
"Having medical ID jewelry was a necessity for my life and became crucial to myself and my family"- Amanda Fones
Amanda was a child when diagnosed with a connective tissue disorder and it has impacted her everyday life since. In February, Amanda was taken into the ER with symptoms of an aortic dissection. She was in a lot of pain but kept feeling stressed with her concern of telling emergency personnel about her medical condition. "What if something happens to me and I'm unconscious, how will anyone know about my genetics and the important health issues they cause?" says Amanda.
Now, Amanda loves the security and peace of mind that her medical ID necklace provides. In fact, she is planning to get a new one of a different style.
"My ID helps me relax when I am out and about" – Jonathon Kelly
In February 2015, Jonathon felt seriously I'll. He experienced being misdiagnosed only to collapse after being sent him. His symptoms were finally identified and linked to his ruptured spleen. The thought of being without a spleen seemed like a scary topic to talk about for Jonathon, especially of the high infection risks that he now lives with.
However, having a medical ID right after his operation improved his fears. "I was immediately reassured there was a way I could tell people about my condition in an easy visual way. It definitely helped take away some of that fear I felt in the early days and is a reassurance to me that if I am ever ill in the future, I know that I will receive the right treatment."
"I can swim cycle sleep work and live my life knowing that it will help paramedics to help me if I'm unconscious." – Janice Henderson
When Janice was first diagnosed with severe allergies, she cried for a half hour before driving home. The thought of needing to wear a medical ID bracelet, as insisted by her allergist, is something that Janice wasn't too happy about. "Some bracelets were extremely expensive and subscription based and I didn't even like what their bracelets looked like. Thankfully, I found an alternative and now I am a huge fan of my Flex Medical ID Bracelet."
Today, Janice takes comfort and pride that she can live her life knowing that her medical ID will allow paramedics to help her in an emergency. She also shares how kids adore her interchangeable bracelet and enjoys swapping different bands for different occasions and seasons.
"Our little 4 year-old son is non-verbal autistic…One day, our fears were faced as our little one unlocked the kitchen gate and got out the back door and managed to escape the yard." – Donna Moore
As a parent to a child with autism, Donna's fear of his son bolting and being lost from their family home is always present. Their fears came to life when their son managed to run away, 4 blocks from their home. Thankfully, he was found by a good Samaritan who realized that the child is unable to speak.
After this terrifying incident, Donna made the decision to put a kid's medical ID on her son.
We want thank all of our customers who shared and continue to send to us their inspiring stories. If you wish to read more, please visit our Life Stories page. Please follow us on social media, American Medical ID on Facebook and Instagram for more updates and upcoming competitions that we have in store for our community.

*Winners of our My ID Story competition each won a medical ID valued up to $200 and have been notified via email.