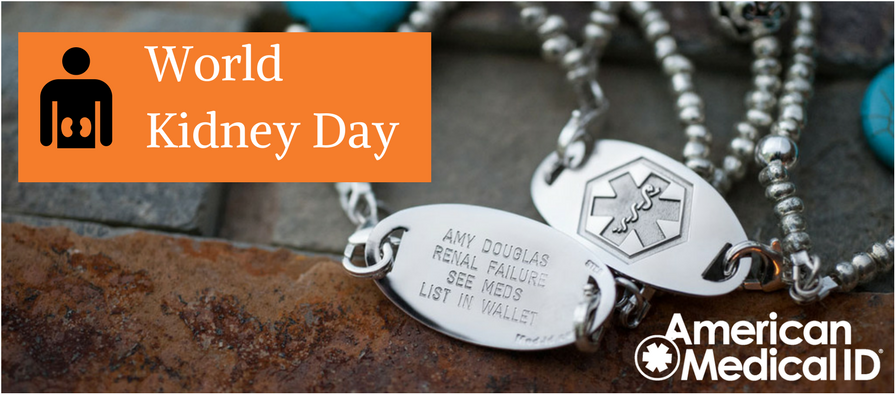 March is an important month for one of the most hardworking organs in the body. Kidneys work 24/7 and each day, 50 gallons of blood are filtered by this organ. Because having healthy kidneys is vital for overall health and vitality, National Kidney Month is celebrated annually in March together with World Kidney Day that falls on March 8.
The National Kidney Foundation reminds everyone to give their kidneys a second thought by getting tested and maintaining a healthy lifestyle.
Watch: Are Your Kidneys Okay?
Medical IDs for Kidney Disease
Patients diagnosed with kidney disease can live a largely normal life but it is important for them to protect their health to prevent a condition from getting worse. A medical ID is a simple tool that can help kidney patients stay safe in an emergency and enjoy peace of mind.
According to the National Kidney Foundation, it's important to let healthcare providers know about kidney disease. Wearing a medical alert bracelet or necklace can easily communicate this serious medical condition and remind healthcare providers of risks associated with kidney disease which may include:
Medications that can build up and cause harm to kidneys that are not working properly
Exposure to intravenous contrast dyes that can cause kidney damage
Study show that the advantage of using a medical alert bracelet for chronic kidney disease is multifold. Apart from alerting emergency responders of this condition to receive appropriate treatment, medical IDs can be a tool for patients to educate themselves about the disease process. Medical IDs can help kidney patients be mentally prepared for the eventual change in life.
What to Put on a Medical ID for Kidney Disease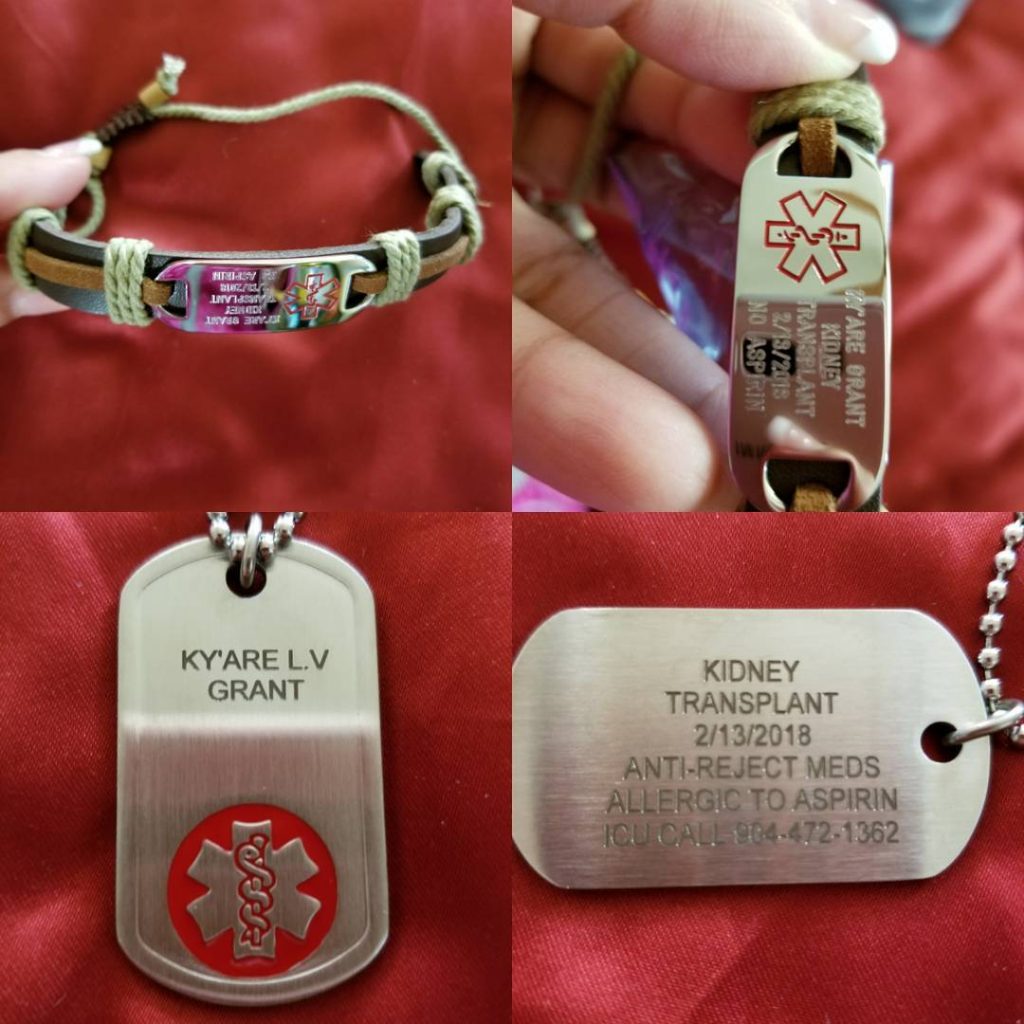 Photo credit: Curtisha Grant, American Medical ID customer
A medical ID should communicate the most vital information in an emergency, this includes the patient's name so responders can quickly address a patient such as when checking for consciousness; medical condition; and emergency contact details.
Here are example medical ID engravings for kidney disease/ conditions:
Kidney disease
Adrenal insufficiency
Renal disease
Renal failure
Kidney failure
Kidney transplant
One kidney – left/right
CKD – Stage 1/2/3
Each type and stage of kidney disease has its own unique set of risks and complications. When in doubt, it is strongly recommended to consult a doctor on the appropriate and precise information to put on a medical ID for kidney disease.
Medical IDs for Kidney Donors
World Kidney Day is also a time to honor kidney donors and raise awareness on the importance of organ donation. Statistics show that over 3,000 new patients are added to the kidney waiting list each month and 13 people die each day while waiting for a life-saving kidney transplant.
Medical IDs are recommended for people who wish to become an organ donor and those who have completed a living organ donation.
It is important for kidney donors to avoid injury to the remaining kidney. Wearing a medical ID bracelet or necklace can easily alert medical professionals of having a single kidney and be aware of its associated risks especially in the event of an emergency.
Learn more about Medical IDs for Living Organ Donors.
Do you have questions about medical IDs for kidney disease awareness? Please leave us a comment below to receive an answer. Happy World Kidney Day!