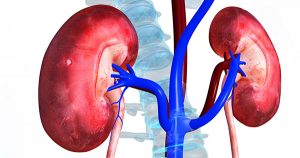 March is National Kidney Month! A time to raise awareness and learn more about the vital organ that regulates blood pressure and filter out toxins from your blood. Did you know that as many as 1 in 3 American adults are at high risk for developing kidney disease? Over time your kidneys can become damaged with little or no warning. However, a few small changes can greatly reduce your risks of developing kidney disease.

There are 6 simple steps you can take to help keep your kidneys healthy:
Keep blood pressure and diabetes in check

High blood pressure and diabetes are the two leading causes of renal failure. When you do not properly control your blood pressure or diabetes, the kidneys have to work overtime and as a result lose their filtering abilities. Careful management of blood pressure and blood glucose levels is beneficial for every organ in the body.

Get tested

Next time you visit your doctor, ask to be given an ACR urine test or GFR blood test yearly. It is critical to have these tests you suffer from diabetes, high blood pressure, or if you have family history of kidney disease.

Reduce the use of OTC pain medicine

Over-the-counter pain meds, such as Aspirin, Ibuprofen and other NSAIDS, can take a toll on kidneys. NSAIDS and other anti-inflammatory pills completely block the kidney's defense mechanisms and leave them open to kidney damage from high blood pressure, diabetes, dehydration, and more.

Cut down on processed foods

Processed foods are loaded with sodium, phosphates and nitrates, which can increase blood pressure levels and has been linked to cancer, heart disease and kidney disease. Try to keep your daily sodium intake under 2,300 mg per day.

Get active!

Regular exercise is good for your entire body and mind! Exercising for as little as 30 minutes a day helps your body control blood pressure and lower blood sugar. As a result, this will improve the overall health of your kidney and the rest of your body!

Quit Smoking

Smoking increases risk of renal disease, especially in people with diabetes, and can lead to potentially dangerous changes of kidney function in healthy people. Studies indicate that these smoking-induced changes are temporary and could be reversed if a person stops smoking.
To learn more about renal disease and how to prevent it, visit The National Kidney Foundation page.