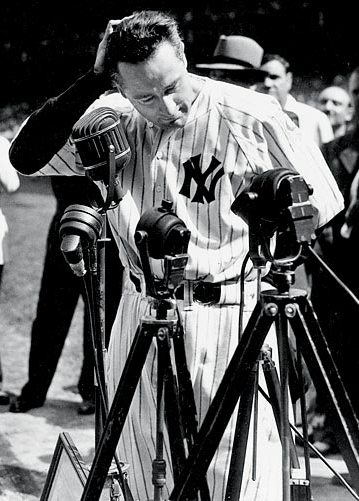 Seventy-five years ago, baseball hall-of-famer, Lou Gehrig, gave an emotional farewell speech to the sport due to his battle with amyotrophic lateral sclerosis (ALS). While he lost his battle shortly after, the fight to end ALS continues. Great advancements are being made worldwide every day, not only through research, but by the people living with ALS, their families, and friends who are directly impacting the pace at which we move toward developing a treatment for people with ALS today.
About ALS and Lou Gehrig
There are roughly 30,000 people in the US living with ALS, also known as Lou Gehrig's disease. This means every 90 minutes, someone is diagnosed with this progressive neurodegenerative disease that causes muscle weakness, paralysis, and respiratory failure. It affects people of all ages, races, and ethnicities. About 10% have a genetic form of the disease, while the majority of people live with a form of the disease that has no known cause. There is no cure or effective treatment for ALS.
Although ALS was first discovered by neurologist Jean-Martin Charcot, MD, in 1865, it wasn't until baseball great, Lou Gehrig, was diagnosed with the disease in 1939 that ALS became well-known.  A baseball hall-of-famer who played for the New York Yankees from 1923-1939, Gehrig left the game due to the progression of his disease.  On July 4, 1939, he gave his farewell speech to the game, calling himself "the luckiest man on the face of the earth." It has been credited as one of the most emotional moments in American sports history. This year, 2014, marks the 75th anniversary of his farewell speech.
Major League Baseball
The ALS Therapy Development Institute and Major League Baseball is once again partnering to raise awareness and funding for ALS in honor of famed baseball player Lou Gehrig. Collaborating organizations include the ALS Association, Muscular Dystrophy Association, Project ALS and ALS TDI. Beginning in May, ALS Awareness month, and culminating in festivities during July 4th games in ballparks around the country, this initiative will show we can win the battle against ALS. Be sure to check your local club for a schedule of events and more information at www.mlb.com/4als
Lou Gehrig's Famous Speech
On July 4, 1939, the New York Yankees held "Lou Gehrig Day" at Yankee Stadium. Gehrig had been diagnosed with ALS just two weeks earlier. With more than 62,000 fans in attendance, the Iron Horse took the microphone for what would become one of the most memorable moments in baseball history.
At the close of Gehrig's emotional speech, Babe Ruth walked up, put his arm around his former teammate and spoke in his ear the first words they had shared since 1934. Gehrig was elected to the Hall of Fame that December. He died in 1941, at age 37.
The speech:
"Fans, for the past two weeks you have been reading about the bad break I got. Yet today I consider myself the luckiest man on the face of this earth. I have been in ballparks for seventeen years and have never received anything but kindness and encouragement from you fans. Look at these grand men. Which of you wouldn't consider it the highlight of his career just to associate with them for even one day?
Sure I'm lucky. Who wouldn't consider it an honor to have known Jacob Ruppert? Also, the builder of baseball's greatest empire, Ed Barrow? To have spent six years with that wonderful little fellow, Miller Huggins? Then to have spent the next nine years with that outstanding leader, that smart student of psychology, the best manager in baseball today, Joe McCarthy?
Sure I'm lucky. When the New York Giants, a team you would give your right arm to beat, and vice versa, sends you a gift — that's something. When everybody down to the groundskeepers and those boys in white coats remember you with trophies — that's something. When you have a wonderful mother-in-law who takes sides with you in squabbles with her own daughter — that's something. When you have a father and a mother who work all their lives so you can have an education and build your body — it's a blessing. When you have a wife who has been a tower of strength and shown more courage than you dreamed existed — that's the finest I know.
So I close in saying that I may have had a tough break, but I have an awful lot to live for."
Sources: ALS Therapy Development Institute, ALS Association, MLB.com