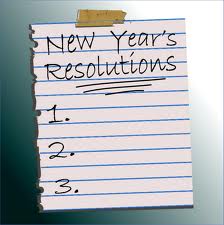 At this time of year, when so many resolutions are being made only to be broken shortly after the first few weeks of January, here are some diabetes resolutions that you'll want to keep!
Re-posted from the Joslin Diabetes Center website.  For the full article, click here.
New Years is a time to come up with resolutions to better your life for the future.  Why not use your resolution this year to set goals to better your diabetes management and overall health?
Your diabetes management goals for the New Year should be specific, measurable, action-oriented, realistic and time-limited.  Click here to view a printable handout you can fill out to help you reach your diabetes management goals.
Gillian Arathuzik, R.D., C.D.E., Nutrition Diabetes Educator, at Joslin Diabetes Center, reviews some examples of annual and daily goals for diabetes management to set for yourself this New Years:
Annual Goals
See your physician 2 to 4 times a year.
Follow your schedule for checking blood glucose levels.
Follow exact instructions for every diabetes medications you take.
Know and keep these numbers in check: A1C, blood pressure and cholesterol.
Get a renal function test and microalbumin test each year.
Get moving.  Any form of physical activity is a step in the right direction.
Create a well-balanced meal plan with your diabetes educator.
Have a yearly eye exam.
See your dentist twice a year.
Get a flu shot in the fall.
Always be prepared for a low or high blood glucose reaction – know the warning signs.
Daily Goals
Check blood glucose X times a day (depending on what your physician suggests).
Take all diabetes-related medications.
Examine your feet for cuts and sores.
Bathe with mild soap and lukewarm water.
Brush and floss your teeth.