It is hard to explain to those who don't know what it is like to be in pain or feel sick on the inside and look perfectly fine on the outside. Wearing a medical ID can help spread awareness of invisible illnesses like Crohn's Disease, PTSD, Anxiety, Bipolar, Depression, Diabetes, Lupus, Fibromyalgia, MS, ME, M.D., Arthritis, Cancer, Heart Disease, Epilepsy, Severe Allergies, Dementia, Alzheimer's and more!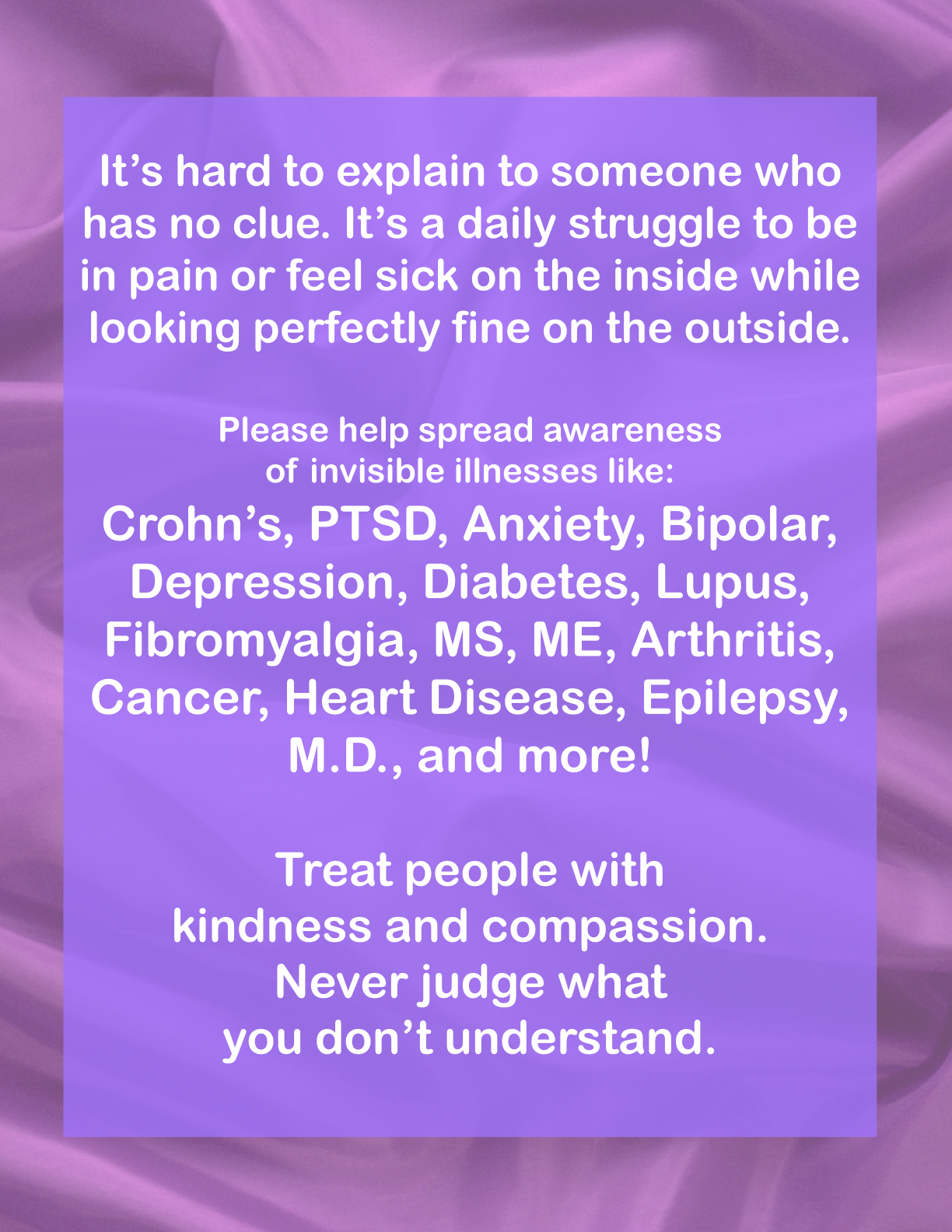 Nearly 1 in 2 Americans (133 million) has a chronic condition
Chronic Care in America: A 21st Century Challenge, a study of the Robert Wood Johnson Foundation & Partnership for Solutions: Johns Hopkins University, Baltimore, MD for the Robert Wood Johnson Foundation (September 2004 Update). "Chronic Conditions: Making the Case for Ongoing Care".
That number is projected to increase by more than one percent per year by 2030, resulting in an estimated chronically ill population of 171 million. Chronic Care in America
96% of them live with an illness that is invisible. These people do no use a cane or any assistive device and may look perfectly healthy. 2002 US Census Bureau
Sixty percent of the chronically ill are between the ages of 18 and 64.
Chronic Care in America
90% of seniors have at least one chronic disease and 77% have two or more chronic diseases
The Growing Burden of Chronic Disease in American, Public Heal Reports / May–June 2004 / Volume 119, Gerard Anderson, PhD
9 million people are cancer survivors with various side effects from treatment
American Cancer Society
The divorce rate among the chronically ill is over 75 percent
National Health Interview Survey
Depression is 15-20% higher for the chronically ill than for the average person
Rifkin, A. "Depression in Physically Ill Patients," Postgraduate Medicine (9-92) 147-154.
Various studies have reported that physical illness or uncontrollable physical pain are major factors in up to 70% of suicides Mackenzie TB, Popkin MK: "Suicide in the medical patient.". Intl J Psych in Med 17:3-22, 1987
and more than 50% of these suicidal patients were under 35 years of age
Michalon M: La psychiatrie de consultation-liaison: une etude prospective en milieu hospitalier general. Can J Psychiatry (In French) 38:168-174,1993
About one in four adults suffer from a diagnosable mental disorder in a given year;
Kessler RC, Chiu WT, Demler O, Walters EE. Prevalence, severity, and comorbidity of twelve-month DSM-IV disorders in the National Comorbidity Survey Replication (NCS-R). Archives of General Psychiatry, 2005 Jun;62(6):617-27.
and more than 90 percent of people who kill themselves have a diagnosable mental disorder
Conwell Y, Brent D. Suicide and aging I: patterns of psychiatric diagnosis. International Psychogeriatrics, 1995; 7(2): 149-64.
Four in five health care dollars (78%) are spent on behalf of people with chronic conditions
The Growing Burden of Chronic Disease in American, Public Health Reports, MayJune 2004 Volume 119 Gerard Anderson, PhD